MasterTorq Pneumatic Rack & Pinion Actuators
• Double-Acting or Spring-Return Operation
• Independent Travel Stops
• 35 ~ 150psi supply pressure
• ISO 5211 Output Drive Connection
• NAMUR top mounting and air supply connection
• Torque Range at 80psi: Double-Acting: 115 – 28,500 lbf-in
Spring-Return: 38 – 11,880 lbf-in (spring-end)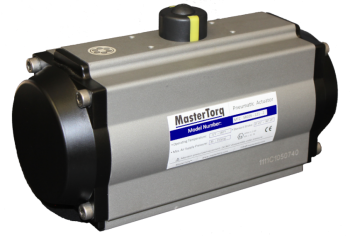 MasterTorq is an independent manufacturer of Pneumatic Rack & Pinion Actuators. MasterTorq delivers excellent Quality at a competitive Price Point.
Automated Valve & Control is the first to acquire the distribution rights for North America of the MasterTorq product line.
We keep a constant inventory on all sizes the MTC-series has to offer. This makes for quick turn around times. Moreover the MasterTorq actuators come with the ISO 5211 mounting patterns which makes it easy to direct mount on to valves, cutting in cost and turn-around time.